Am I A Candidate?
Find out if you qualify for weight loss surgery
Get Started
In the United States, more than 30 percent of adults are considered obese. Much more than an aesthetic concern, obesity can cause an array of health problems including diabetes, high blood pressure, high cholesterol, sleep apnea, and osteoarthritis.
A common misconception about weight loss surgery is that it's only for the morbidly obese. You may be surprised to find that you could be a candidate for weight loss surgery if you are only 50 pounds overweight. We believe it's important to consider weight loss surgery even before major health issues arise.
While most overweight and obese individuals try to lose excess pounds through diet and exercise, many of them fail. Sometimes, the reason for failure is beyond one's control because of genetics or disease. If you are one of these people, weight loss surgery might be the answer.
Client selection for bariatric surgery is based on the National Institutes of Health (NIH) criteria, and the following:
For insurance clients: BMI greater than 27
For personal investment or financing clients BMI of 27 or greater
For Gastric Balloon clients: BMI greater than 27
We accept several different insurances. If you plan to use insurance, keep in mind your insurance may dictate if you are covered for surgical treatment of obesity, and if you are a candidate. They may require you to meet certain criteria before your procedure. To have our insurance specialist verify your benefits and eligibility, click here.
Which Procedure Is Right For Me?
Our most popular bariatric surgery procedures are Blossom Bariatrics Safe Sleeve® (aka Gastric Sleeve), the Gastric Bypass, and the Turbo Sleeve/SIPS Procedure. These procedures work by decreasing the size of the stomach and decreasing nutrient absorption.
Because every client has unique health concerns and weight loss goals, only a personal consultation with a bariatric surgeon can help you determine which procedure is the best for you.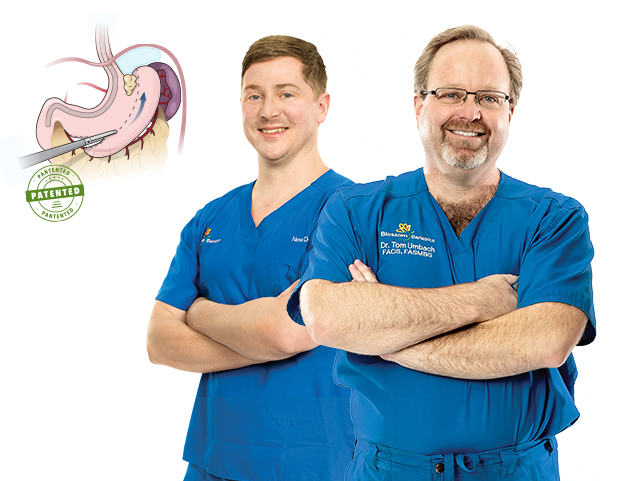 Why Bariatric Surgery?
The majority of people who consider weight loss (bariatric) surgery do so after years of unsuccessful dieting attempts, including participation in diet programs, taking weight loss medications and exercising. After years of losing weight and gaining it back, it is not unusual to blame yourself. Most of our clients have been on many diets and end up feeling like a failure. At Blossom Bariatrics we offer a safe supportive environment, successful life changing weight loss and compassion care from dedicated Center of Excellence surgeons and team.
Morbid obesity is a disease requiring lifelong treatment. Bariatric surgery is a treatment option that alters the client's anatomy and physiology, while allowing for significant weight loss and the reversal or improvement of co-morbid conditions.*
Am I A Candidate?
Find out by filling out the form below and a Wellness Coordinator will contact you directly.
What others are saying?
See why others have chosen Blossom Bariatrics for their weight loss surgery
At 40 years old I needed to change for my wife and son. My transformation has lead me to a better, healthier lifestyle. Over 260 pounds lost, never to be found again!
I never believed I would be healthy again! I do not have to take any diabetes meds now and I used to take 5 injections a day. I can now move and exercise and even touch my toes!...
For me this was life or death. The weight loss has given me years back when I only had days left. It's a second chance at life!